When planning for a big trip, especially to a foreign country, many questions will come to mind. Although we cannot possibly anticipate all of your questions, the following are some of the major ones we hear regularly. If you have other specific questions, just let us know and will get you the answers you need!

Do I Need Travel Insurance? What Does It Cover? The short answer: "yes." We strongly recommend international travelers have travel insurance. There are 5 basic types of coverage provided with travel, or vacation, insurance. Here is an overview:
1. Cancelled Trips /Trip Interruption

This is the #1 concern with most travelers. Plane tickets, cruise fare, tour packages, hotel rooms, charter fishing boats, golf greens fees. You invest money when planning a trip. If these expenses are pre-paid and non-refundable, you risk losing it if something goes wrong.



The following are the typical covered reasons to cancel your trip; This is only a partial list, but you can see it covers very common situations for cancelling. The most common reason is the first one: someone getting sick or a death in the family.
* Sickness, injury, or death of you, a family member, or a traveling companion
* Hurricane damages your destination or cancels your flight
* Laid off from work or required to work
* Terrorist incident in your destination city
* Bankruptcy of your travel supplier
* Called for jury duty
Trip Interruption Coverage is similar to cancellation coverage, but covers you while you are on your trip for the same list of covered reasons. If something happens and you are required to return home, insurance will reimburse you for the lost portion of your trip, well as any additional expenses for the last-minute flight home.
2. Medical emergencies abroad This is crucial, and often overlooked. Most people think they are covered for medical emergencies if they already have existing health care insurance. Within the United States, that will be true. Outside the U.S., however, is a big IF. Most do not provide coverage, and Medicare and Social Security never cover you abroad.

For cruises, your health insurance from home may not cover you if you're traveling on a foreign-flagged ship (which includes most cruise ships). Medical Expense Coverage will cover you for accidents and emergency medical and dental care when you travel abroad. Even if you are covered for basic emergency care overseas, your current health insurance provider will almost certainly NOT pay to evacuate you and fly you back to the U.S.
3. Emergency Evacuations This covers expenses such as airlifts and medically equipped flights back home, and oftentimes will transport you to the hospital of your choice for care. Depending upon where you are traveling, getting you to an appropriate hospital, or back home on board a medically-staffed flight, can be costly.
4. Lost bags, delayed bags, delayed flights These coverages are for the "smaller things" that are nice to have. Again, the list is not complete but it will give you an idea of some additional coverages:

Baggage Coverage reimburses you for your personal belongings if your luggage is lost, stolen or damaged.
Baggage Delay Coverage provides money to buy essential items until your delayed bags arrive, such as a toiletry kit, a swimsuit, or another change of clothes.
Travel Delay Coverage provides reimbursement for additional expenses if your flight is delayed, such as an extra night in a hotel or a meal at a restaurant.
5. 24/7 Travel Assistance Services Worldwide This coverage is about having a 'lifeline' to call when something happens. Medical emergencies, stolen baggage, lost passports, cancelled flights. Every travel insurance company provides 24/7 support for all of these needs. Non-medical assistance may include:

* Lost passport/travel documents assistance
* Travel information including visa/passport requirements
* Emergency telephone interpretation assistance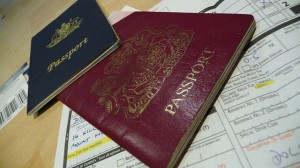 Passports & Visas A passport is now required for ALL international flights and cruises – including Mexico, the Caribbean or Canada. The last three will accept a Passport Card, which you can get when you get your Passport for a nominal charge. It looks similar to a driver's license, but validates that you have a full passport, with all the rights associated, but is less cumbersome. Do not carry your passport around once you are at your destination. Leave it in the safe in your hotel. A photocopy or your passport card will suffice if local law states that you need to have citizenship documents on your person.
A travel visa is required to enter many countries. Travel visas are documents indicating a person has been authorized to enter a country, and often come in the form of a sticker or stamp attached to a passport. We will let you know if you are taking a tour to a country that requires a visa. If you are taking an international cruise, and will have stops in countries that would normally require a visa, you will not be required to get a visa so long as you go on shore in a commercial excursion from the ship – this can save you thousands of dollars!
Visit the www.travel.state.gov to learn of any visa requirements as well as international travel warnings. Consider registering your international travel with Smart Traveler Enrollment Program (STEP) on the U.S. State Department website. STEP is a free service to allow U.S. citizens and nationals traveling abroad to enroll their trip with the nearest U.S. Embassy or Consulate. Receive important information from the Embassy about safety conditions in your destination country, helping you make informed decisions about your travel plans. Registration will help the U.S. Embassy contact you in an emergency, whether natural disaster, civil unrest, or family emergency. It will also help family and friends get in touch with you in an emergency. back to top
Tips for Long Flights You're so excited to get to your destination country, but after 8, 10 or 12+ hours on a plane, you may feel totally exhausted when you arrive. To avoid jet lag, the week ahead of long flights, try to get as much rest as possible.
Long flights are dehydrating. Eat lightly, stay hydrated, and have no coffee or alcohol and only minimal sugar until the flight's almost over. Avoid the slight chance of getting a blood clot in your leg during long flights by taking short walks hourly. While seated, flex your ankles and don't cross your legs. Sleep as much as you can on the plane, and when you arrive at your destination, do your best to stay on local time. By the time you wake up the next morning, your body should be on local time.
How much money should I carry? Carry just enough cash to cover your expenses for when you first get to the country you're visiting. Call your bank and let them know you will be traveling, and to which foreign country you will be using your ATM card so they don't think your card has been stolen and cancel it. Once you've arrived, you can use your credit or debit cards for purchases or to get cash from an ATM machine. back to top
What is the best way to obtain cash while traveling abroad? First, refrain from traveling with mass quantities of cash. Taking out a bunch of paper money all at once will allow you to cut down on fees from numerous ATM withdrawals, but it opens the door for loss and theft. That being said, international ATM withdrawals can incur a charge exceeding $5 per transaction.
ATM Fees To determine which ATM to use, just match the logos on the back of your card to the logos posted on the machine. If your bank has international partners, you may be able to make ATM withdrawal free of charge. Members of the global ATM alliance — Bank of America, Barclays, Deutsche Bank, BNP Paribas and others — allow customers to conduct free transactions at their partners.
Travel pros frequently recommend bypassing the physical exchange process and using ATMs instead. While ATMs sometimes offer the best deal, you won't know the exchange rate until after you've made your withdrawal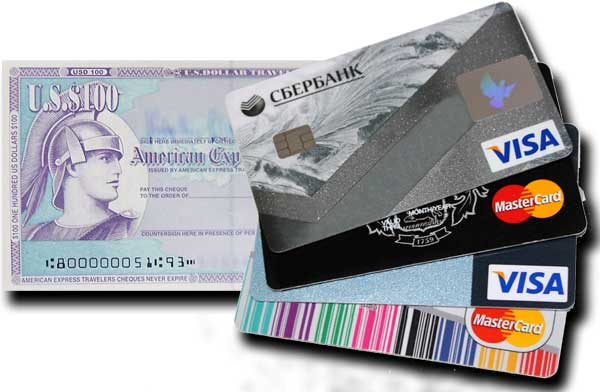 Currency Exchange Fees One place travelers lose money is in exchanging U.S. dollars for foreign currency. Many travelers will be more comfortable changing currency at their local bank in the States, but that usually isn't the cheapest route. Some businesses and institutions charge significantly higher rates than others, including airports and hotels. Research current exchange rates for your destination just before you travel. Rates can fluctuate without warning, but starting with a general ballpark number will help you spot scams and rip-offs.
Traveler's Checks and Check Cards While traditional traveler's checks have largely gone the way of the dinosaur, Visa and Travelex offer travel cards that are prepaid like traveler's checks but work like credit cards for purchases and ATM withdrawals. To avoid the aforementioned problems that U.S. travelers have at overseas chip-and-PIN machines, Travelex even offers a chip-and-PIN card (available in several different currencies). Traditional checks are still sometimes useful as currency if you can't find a functioning ATM. back to top
The prepaid travel check cards give you better exchange rates, but there are plenty of fees — look out for activation fees, charges for reloading the card, ATM charges or inactivity fees. In most cases, you're probably better off using your own debit or credit card.
Can I use my credit and debit cards in foreign countries? The short answer, again, is, "yes." The biggest advantage to using credit cards while traveling overseas is that credit card purchases are exchanged at the interbank exchange rate, usually the best rate you can get for currency exchange. While most credit card issuers charge currency conversion fees each time you make a purchase in a foreign currency (generally 1 percent from Visa or MasterCard plus an additional 1 – 2 percent for themselves), these fees are typically lower than those you'd pay to convert your own currency at a change bureau.
One problem for U.S. travelers is the growing prevalence of "chip-and-PIN" or smartcredit cards in Europe, Asia and South America. Designed to reduce fraud, these cards rely on an embedded chip that transmits information to a merchant, which the consumer then verifies by entering a PIN. While U.S. cards with magnetic stripes will still work as long as there's someone to swipe them, many travelers report problems using their cards in ticket vending kiosks, at gas stations or in other places featuring automated payment machines. If you find yourself in this dilemma, your only alternatives are to find an attendant to scan your card or to use cash instead.
These cards are not yet widely available in the U.S. However, several banks, including Citi, Bank of America and Chase, have begun issuing dual credit cards that use both the magnetic stripe and the embedded chip. In addition, Travelex has introduced a prepaid chip-and-PIN MasterCard that works like a hybrid between a credit card and a traveler's check. back to top
Can I use my cell phone while traveling out of the country?
There are two scenarios to consider: on land or on sea. If you are traveling on land, you need to understand how cell phones and smartphones connect: Cells and smartphones in the United States connect over GSM (AT&T and T-Mobile) or CDMA (Verizon and Sprint) networks. You will need to contact your carrier to find out which countries they serve, and to talk with them about either an international calling plan or a data package for your smart phone. Be forewarned – this isn't going to be cheap.
If you're taking a cruise, before you depart find out which cruise lines your provider supports. Remember that as soon as you pull out of port you'll be dealing with roaming charges; some providers have plans to reduce the roaming charges. Wireless carriers offer data, messaging, and calling plans for cruise ships that are similar to on-land packages, so you can pick the one that best suits your needs. Data plans cost around $25 for 100MB, and text messages costs as much as 50 cents per text. But, where carriers really get you is on phone calls, charging $2.49 per minute or more. If you only need the Internet for your smartphone, turn off the phone's data usage and roaming so that your phone will only connect to the ship's Wi-Fi. Purchase a Wi-Fi package, which typically costs from 65 to 95 cents per minute.
Download the Connect@Sea app. This app uses the ship's wireless service, so you'll still have to buy a package. But the app allows for ship-to-shore, shore-to-ship, and onboard calling and texting. If you want to be accessible at all times, download this app to your Apple or Android device. To use it you must purchase calling credits, but that's cheaper than purchasing a calling and data plan from your provider if you intend to use your phone frequently. back to top

Think twice about using your phone while off the ship. If you buy the cruise ship plan from your wireless provider, those rates only apply when you're in international waters. Once you're within 12 miles of a port, the roaming rates for that country apply. Be sure you know what those rates will be before you start making calls!

How can I charge my electronic devices when on my trip? If you are outside of North America, you may need a power converter and adapter. These are readily available and can be as inexpensive as $20. Apple has a World Traveler Adapter Kit for all of their proprietary products. You will need a power converter and adapter for all electrical appliances – blow dryers, curling irons, electrical shavers and computers.
Pack Smart! Depending upon the type of trip you're taking, and the duration, packing can be a major issue for you. Cruises offer you the ability to unpack and not worry about luggage until you return, no matter how many ports of call you visit. However, if you're taking a land tour that will visit multiple destinations, and you are responsible for your own luggage, having many (or heavy) luggage can be a problem. The following are some tips to consider:

Pack light so you can move more quickly and have a free hand when you need it.

Carry a minimum number of valuables and plan places to conceal them. You don't want to be too flashy as to catch the eye
of potential pick pocketers.

Use covered luggage tags to avoid casual observation of your identity and nationality.

Avoid packing IDs, tickets and other vital documents in backpacks or other locations you won't be able to see at all times. back to top
Have Photocopies of Your Itinerary and Travel Documents Make two photocopies of all your travel documents in case of emergency, or in case your documents are lost or stolen. Leave one copy with a friend or relative at home. It is always a great idea to let at least one person know exactly where you will be staying and how to contact you in an emergency. Carry the other copy with you, stored separately from the originals. Documents to make copies of include:

Passport ID page

Foreign visa (if applicable)

Itinerary

Hotel confirmation

Airline ticket

Credit cards brought on the trip

Traveler's check serial numbers back to top
Taking Any Prescriptions or Other Medications If you take prescription medication, here are a few things to keep in mind:

Pack enough to last your entire trip, including some extra in case you are unexpectedly delayed.

Carry your medications in their original labeled containers, and pack them in your carry-on bag, since checked baggage
is occasionally lost or delayed.

Ask your pharmacy or physician for the generic equivalent name of your prescriptions in case you need to purchase additional medication abroad.
Will Refrigeration Be Available for Insulin?
If you have medications requiring refrigeration, like insulin, be sure to tell us, as how this is handled varies depending upon the trip you're taking. We can make sure that you will have access to refrigeration either in your ship's cabin, or in your hotel if you're taking a land tour.
Does Your Health Insurance Cover You Outside the U.S.? Learn what medical services your health insurance will cover overseas. Although some health insurance companies will pay "customary and reasonable" hospital costs abroad, very few will pay for a medical evacuation back to the U.S., which can easily cost over $10,000, depending on your condition and location. Whether your insurance is valid overseas or not, you may be required to pay for care when you receive it. This is one of the reasons we recommend travel insurance.
Research Local Customs and Culture Some countries, especially in the Middle East and Asia, dress more conservatively than we do. You shouldn't wear shorts or sleeveless tops in these places, so ensure you have some other forms of clothing packed in your bag. It is also handy to have a long-sleeved top packed. For example, St. Peters Cathedral in Rome requires you to cover your arms when entering the building. You don't want to miss out on the opportunity to see such fabulous places just because you don't have the right top with you. Be sure to research the customs and cultures where you are going – it will enhance your experience. back to top
Packing Tips It's easy to get excited about your up-coming adventure, and you may be thinking of all of the clothes you think you may need to have with you. Your first pass may have you taking three suitcases, which is definitely over-kill! Here are a couple of tips to make sure that you have what you need with you without needing a valet!
Make a packing list. When it comes to packing, procrastinators fall short. Start your packing process days or even weeks ahead of your departure date. First, make a list of the travel documents you need to have with you, as well as the power converters and adapters, appliances, etc. that you'll need. Then make a list of the things you plan to do on your trip. Walking around and seeing the sights, going bungee jumping, fancy dinners, sitting by the pool – all of these require different clothes. Once you have a list of activities, you can begin to put together a list of the clothes and accessories you will need. Be cautious about how much jewelry you bring with you; you can look beautiful without attracting the wrong people's attention. make sure you have comfortable shoes for sightseeing; do your research and know the anticipated weather for the time you'll be there. Bringing versatile clothing that you can 'mix and match' into several outfits will help to keep you from over-packing. Remember: if you're on a land tour, you'll be responsible for your luggage!
Roll, don't fold. Many travel experts—including backpackers, who must stuff months' worth of clothing into a pack the size of a box of wine—agree that rolling is superior to folding. Tightly rolled clothes take up less space than folded ones. Plus, they're less prone to getting deep wrinkles from fold creases. Roll more delicate clothing that wrinkle easily in a plastic dry cleaner bag; the air bubbles will help to reduce the wrinkles. back to top
So where have you been considering? The Caribbean?
Alaska? A Mediterranean cruise or a tour of Europe?

Simplify your decision making – call us today!

Let us show you the world!

Call toll free (800)697-9179
or(336) 476-7088