When thinking about your next vacation, it may be time to consider taking a cruise. The cruise industry has grown dramatically in the past decade, and for good reason. A cruise is a great option for couples, families or groups who want the most out of their vacation experience. There are two approaches you can take when planning to take a cruise: the first is for those who are flexible and spontaneous – just give us a call and we'll let you know of any Pack and Go deals available! You won't necessarily get the cabin or location you want on the ship, or the specific ports you hoped for, but you can definitely get some great deals. The second approach will guarantee your cruise will be everything you want it to be. By planning in advance, you will be assured of having the cabin of your choice (balcony, suite, level, etc.). All you need do is make a small deposit to reserve your cabin, sometimes as little as $150 per person. Then, just make flexible payments – on your schedule – the balance will be due between 30 and 75 days before you depart on your cruise! Here are our Top 10 Reasons to Take a Cruise:
1. Value. Cruises are a great value because the cost includes your transportation, room and all your meals! And it also includes top-quality entertainment for adults and children, exercise rooms, pools, seminars and so much more! Yes, there are other fees that can be incurred if you choose to dine at a premium restaurant or take shore excursions, but that would be the same with any vacation. For people on a budget, this is a perfect solution!

2. There's an ideal cruise ship for everyone! The ideal cruise ship for one person may be a mega-ship outfitted with onboard rock-climbing walls and outdoor movie theaters, while another will prefer an intimate ship with an up-scale ambience, and someone else will want the seafaring experience of a masted tall sailing ship. Luckily, all those different types of cruise ships exist. Here is a picture of two ships docked in Bermuda – and the smaller one isn't very small! There are now more U.S. ports from where you can sail than ever before!
Boston, Baltimore, Bayonne, New York, Philadelphia, Norfolk, Charleston, Jacksonville, Port Canaveral, Fort Lauderdale,
Miami, Tampa, Mobile, New Orleans, Galveston, Honolulu, Seward, Ensenada, San Diego, Los Angeles, San Francisco, and Seattle.
Coordinating transportation time and expense to get to your ship is imperative. All important reasons for talking with Salty Dog about what your preferences are and what you want to experience.
3. Cruise vacations are easy to plan. Because cruises package together transportation and accommodations, they're very easy to plan. Pick your ship, itinerary and cabin, and away you go — no searching for hotels in your price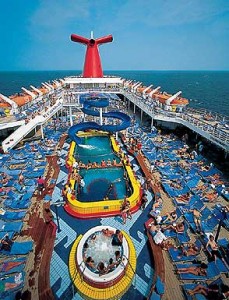 range, no coordinating travel between cities. Salty Dog can even arrange your airfare for you — or choose a departure port within driving distance to eliminate that extra planning step.
4. A Good Family Vacation Option. Cruises offer options for families to travel together while enjoying separate vacations, offering secure childcare facilities where children can enjoy activities designed just for them. At the same time, parents can enjoy some grown-up time. This way, everyone can go their own way and then come together as a family for meals and other events. Many cruises also offer family-friendly entertainment for families who want to spend more time together.
If you are not traveling with children and don't want to hear the constant squeals of little kids, don't worry. On most cruises, you will find that you hardly notice they're on the ship. There is a separate section of the ship for children's activities, one you can't even get into unless you're a parent – the security is excellent.
5. See multiple locations – only unpack once! While on a cruise you can visit multiple destinations without having to constantly pack and unpack your luggage. Relax on deck at the pool or attend a seminar or a show, all while traveling between destinations. When the ship docks, explore the new location and sample the local culture. The ship will have numerous planned excursions on shore.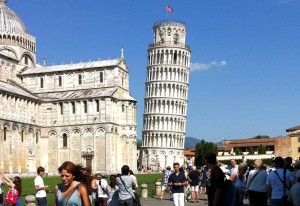 6. Secure way to see exotic places. Always wanted to visit the Caribbean but are nervous about the language barrier? Curious about Asia, but nervous about country customs? A cruise is one of the best ways to see the most exotic and foreign destinations in the world in an easy and secure way. It's also important to remember that if you take a commercial ocean cruise line to a country that would normally require a visa, you won't need to get a visa, saving you perhaps thousands of dollars!
Itineraries will offer ports of call (stops) at major cities and picturesque villages, all of which will be regional highlights, so you don't have to do the research on the best places to visit in an unfamiliar destination. If you're uncomfortable with independent sightseeing in a foreign locale, simply take a ship's tour with English-speaking guides. Then return to the security of your room on board the ship!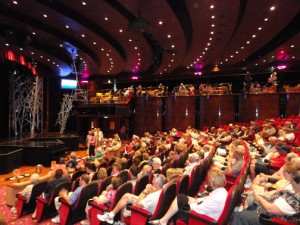 7. Variety of activities and entertainment "Don't you get bored on a cruise?" This question is never asked by someone who has ever been on a cruise! Because a cruise ship is like a floating city, there is always something to do, no matter your age or preferences. You will always have several evening entertainment options – cruise lines spare no expense in presenting some of the best entertainment! Shows, comedians, live bands – something different every night! You'll usually find dancing, casinos, and other entertainment for adults. During the day there's always swimming and sunbathing on deck, shuffleboard (yes, people still play shuffleboard on a ship!), and other sports activities outside, plus a health club inside. There will usually be classes and seminars on a wide variety of topics. Obviously, Disney cruises will be even more focused on the children!
8. Pampering! Let's be honest – how often do you usually feel pampered? You will on a cruise! Since relaxation and rejuvenation are often the ultimate goals of any vacation, a cruise fits the bill perfectly! Both parents and children alike get pampered on a cruise – it's just a different definition of "pamper." Parents can spend a relaxing afternoon of massage, hot tubs, and sunbathing, while the children can spend a day of running, jumping, swimming and playing while being taken care of in a secure section of the ship by qualified persons, just down the deck from their parents.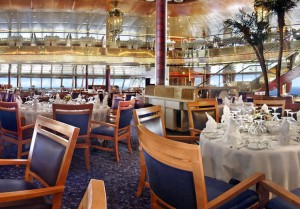 9. Fantastic Food! 'Unlimited, fantastic food' is one of the things people talk about most on cruises! Most cruise ships hire top chefs, many who have studied at very prestigious culinary institutes. You will find several cuisine options and different restaurants. Menu options make the cruise experience great for families. Kid-friendly cuisine, alongside fine dining choices, make family dining an enjoyable event. Check with us about the different options for dining onboard – some cruise lines are totally casual, others may have a night or two where you'll want to dress it up a bit. You decide – it's your vacation!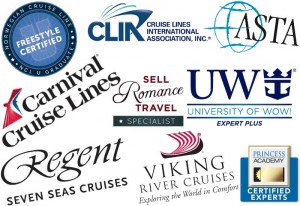 10. Easy way to travel with a group! Whether your whole family, a corporate or church group, taking a cruise is a great way to travel with a group of people. Cruise lines have plans in place for group travel, eliminating the hassle of coordinating your 20 family members and friends from around the country who want to vacation with you. Book enough cabins and you'll get extra perks, including a free fare!
There are so many variables involved with selecting the right cruise – it helps to have experts on your side to make sure that your cruise is just what you want it to be. We represent most of the major cruise lines and can help you determine which is right for you. Check out Why You Should Use a Travel Agency – make sure your cruise meets or exceeds your dreams!
So where have you been considering? The Caribbean?
Alaska? A Mediterranean cruise or a tour of Europe?

Simplify your decision making – call us today!

Let us show you the world!

Call toll free (800)697-9179
or(336) 476-7088